Looking at President Kevin C. Weinman's calendar during his first months at Marist would make anyone's head spin.
On Oct. 4, Weinman took over the role of president from Dennis J. Murray, who led Marist for nearly 40 years. Since then, Weinman has taken part in more than 300 meetings to get to know students, alumni, faculty, staff, parents, and community members and attended dozens of athletic contests, theatre performances, concerts, and cultural celebrations. He holds open office hours to engage individually with students and hosts weekly lunches with faculty and staff to get to know them better and hear what is on their minds. He also welcomed alumni to Marist's Homecoming and Reunion celebration on the campus green.
"There is so much to experience each and every day and evening at Marist. I have really enjoyed crisscrossing campus to take it all in, meet so many people, and learn as much as I can — and as quickly as I can — about this amazing institution," he said.
He came to Marist from Amherst College, where he served as chief financial and administrative officer, and previously Dartmouth, where he was assistant vice president of finance. But he has no plans for Marist to imitate either institution. "Marist has a unique combination of values, strengths, and assets that no other college or university can match. My primary focus is to build upon the elements that make it distinct."
Education On and Off Campus
His own academic journey encompassed both the liberal arts paired with a career orientation. A first-generation college student, Weinman enrolled at Notre Dame thinking the point of college was to get an accounting degree and a job. Along the way he discovered a love for history and double-majored in accounting and history. He went on to earn an MBA from the University of North Carolina's Kenan-Flagler Business School. He then pursued an MA in history from the University of Colorado and a PhD in history from the University of New Hampshire.
Outside of academe, Weinman indulged his passion for exploring, especially for traveling by back roads. By the age of 24 he had visited all 50 states, mostly in a beat-up Toyota 4Runner followed by a two-door Ford Escort once the 4Runner was pushed beyond its breaking point. There was one epic road trip in particular, a three-week camping tour of the West that, perhaps thanks to his budgeting skills, cost under $300 in total ("lots of Wonder bread," he recalled). He also enjoys competitive outdoor sports and has completed seven marathons, nine half-Ironman triathlons, and 32 half-marathons. Calling himself a "compulsive counter," he has maintained a spreadsheet since 2004 where he has logged every ride, swim, run, and even kayak paddles ("even though I know that those are supposed to be just for fun," he quipped). He passed 50,000 total miles in 2021.
After college and graduate school, he held a number of senior roles in finance and marketing at corporations before deciding to pursue a career in higher education. It was at Arthur Andersen in Charlotte, NC, that he met his wife, Beth, who worked there as well. She is a contract administrator and associate controller for an engineering research and development company in Amherst, MA. Their son, Alex, 20, is a college student at Colorado College, and their daughter, Brooke, 17, attends high school in Massachusetts. Once Brooke finishes high school, Kevin's family will join him full-time in Poughkeepsie. For now, Kevin and Beth each feel like they can drive the Taconic with their eyes closed ("though we know that is a very bad idea," Kevin reassures us) from the many weekend traverses in either direction between Poughkeepsie and Western Massachusetts for mini family reunions.
Challenges and Opportunities
Weinman has boundless enthusiasm for Marist's future. "Marist has retained the very best of a liberal arts tradition while becoming a leader in pedagogical innovation," he said, citing programs such as the doctorate in physical therapy and rapid growth across a variety of disciplines where Marist has unique strengths such as cybersecurity, fashion, and sports communication, giving students more exciting options for learning than ever before.
But challenges lie ahead, he acknowledged. One obstacle Marist already faces is that the number of high school graduates is declining, especially in the Northeast. Competition is increasingly intense for talented students. Marist will need to continue to distinguish itself from other institutions by telling its story to prospective students around the globe, he said.
"We will need to continuously innovate in and out of the classroom to provide our students with an outstanding experience and send them off to do incredible things in the world."
In his previous academic positions, Weinman saw up close the impact that philanthropy can make on an institution, which is why he and Beth, just two months after joining the Red Fox community, made a pledge to give $250,000 to the College. Their generous gift will support a number of priorities designed to improve the quality of a Marist education for all students and make it more accessible and equitable for talented students regardless of their financial situation.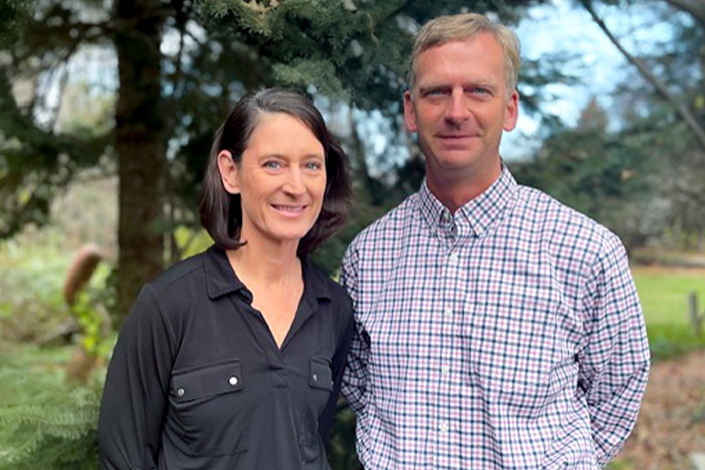 Beth and Kevin Weinman
"In my short time here, it is already abundantly clear to me that Marist is thriving, yet has the potential to achieve even greater heights," Weinman said. "One of the ways Marist can do so is to attract, enroll, and retain a diverse group of talented students and enable them to experience the full range of curricular and co-curricular offerings once they arrive, regardless of their financial circumstances. Our pledge is intended to be one small step towards helping all of our students to reach their full potential and get the most out of their Marist experience."
"Members of the Board are extremely pleased that Kevin and Beth have decided to provide not only their time and talents to making Marist the very best it can be, but also the generous contribution of their financial resources," said Ross Mauri, chair of Marist's Board of Trustees. "Their support is an early indication that they have a deep commitment to Marist College and have tremendous confidence in its future."
Their pledge will support five institutional priorities:
• Expand the Dennis and Marilyn Murray Endowed Scholarship Fund, which provides financial assistance to extremely talented students who might not otherwise attend Marist. The fund, now valued at over $3 million, was established in the Murrays' honor in 2016.
• Create the Presidential Internship Support Fund to assist students with financial need in securing internships in fields where such experiences are often unpaid and thus create barriers for students with financial need to pursue careers in these fields.
• Create the Presidential Academic Travel Fund to enable students with financial need to enroll in courses that include a travel component.
• Create the Presidential First Year Academic Support Fund to enhance the support that incoming students receive to assist in their successful transition to Marist.
• Contribute to the Marist Fund. The fund, which raises over $1.3 million annually, is an important means by which Marist alumni, parents, and friends provide financial support to the College.
With their pledge, the Weinmans are excited to begin a lifetime of giving to Marist. "Beth and I believe that an investment in Marist College is an excellent one. As president, I will do all I can to ensure that these and other sources of support will have the highest degree of impact on the College and its students," Weinman said.
Kevin and Beth invite Marist alumni, parents, and friends to consider supporting the College in ways and at amounts that are meaningful to them. "With the collective support of its community, Marist can achieve great things," Weinman said, "and become the very best institution of higher education that it can be."